Advanced detection of environmental phenomena that directly affect public safety, protection of property, and our nation's economic health and prosperity.
NOAA's "R Series" of Geostationary Operational Environmental Satellites (GOES-R) is the Western Hemisphere's most advanced weather-observing and environmental-monitoring system. The satellites provide real-time, high-resolution imagery and atmospheric measurements of Earth's weather (including lightning activity), oceans and environment,  as well as solar activity and space weather monitoring.
GOES orbit roughly 22,240 miles above the equator, and their orbital period matches the rotational period of the Earth. This means that they remain over the same area as the planet spins around its axis. Because they stay above a fixed area on the surface, the satellites provide constant vigil to identify and track severe weather conditions and environmental hazards like fires, smoke, dust storms, fog, and volcanic ash over time. Information from geostationary satellites is used for short-term (1–2 day) forecasts and also for tracking storm systems in real-time.
The GOES-R Series also hosts a suite of instruments that detect approaching space weather hazards, which can disrupt power utilities and communication and navigation systems, and cause radiation damage to orbiting satellites.
NOAA maintains a two-satellite operational GOES constellation, keeping an eye on more than half the globe—from the west coast of Africa to New Zealand and from near the Arctic Circle to the Antarctic Circle. These satellites are known as GOES East and GOES West.
Our Leadership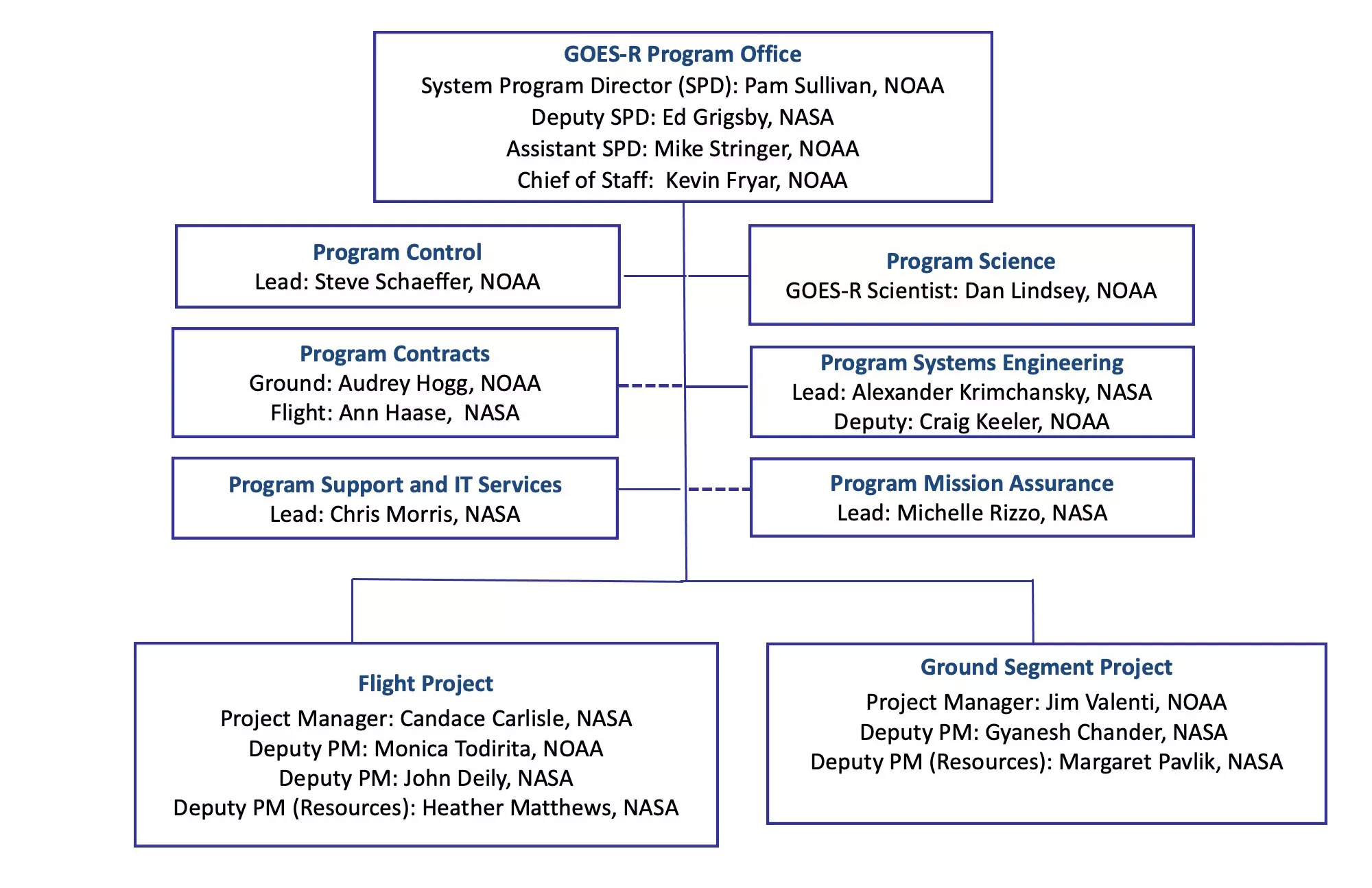 Read about our leadership team.
News and Announcements
Keep up-to-date on news and announcements regarding GOES-R.
A

dditional Information
The GOES-R Series Program is a collaborative effort between NOAA and NASA.
NASA builds and launches the satellites for NOAA, which operates them and distributes their data to users worldwide. The program is managed by NOAA with an integrated NOAA-NASA program office organization, staffed with personnel from NOAA and NASA, and supported by industry.
Partners
NOAA

NASA

L3Harris

Lockheed Martin

Laboratory for Atmospheric and Space Physics (LASP)

Assurance Technology Corporation

Cooperative Institute for Satellite Earth System Studies (CISESS)

Cooperative Institute for Mesoscale Meteorological Studies (CIMMS)

Cooperative Institute for Meteorological Satellite Studies (CIMSS)

Cooperative Institute for Research in the Atmosphere (CIRA)

Cooperative Institute for Research in Environmental Sciences (CIRES)

Cooperative Program for Operational Meteorology, Education, and Training (COMET)

Virtual Institute for Satellite Integration Training (VISIT)