NOAA's Geostationary Extended Observations (GeoXO) satellite system will expand observations of Earth that the GOES-R Series currently provides from geostationary orbit. The information GeoXO supplies will address emerging environmental issues and challenges regarding weather, the ocean, and the climate that threaten the security and well-being of everyone in the Western Hemisphere.
NOAA expects that GeoXO will begin operating in the early 2030s as the GOES-R Series nears the end of its operational lifetime.
Advancing NOAA's Mission
GeoXO will watch over the Western Hemisphere as part of NOAA's observing system that supports short-term forecasts and warnings of extreme weather and environmental hazards as well as long-term planning for the effects of climate change. This observing system will deliver information that sophisticated climate-forecasting models use to predict weather patterns, including emerging patterns caused by climate change.
NOAA's Data Users Inform GeoXO Capabilities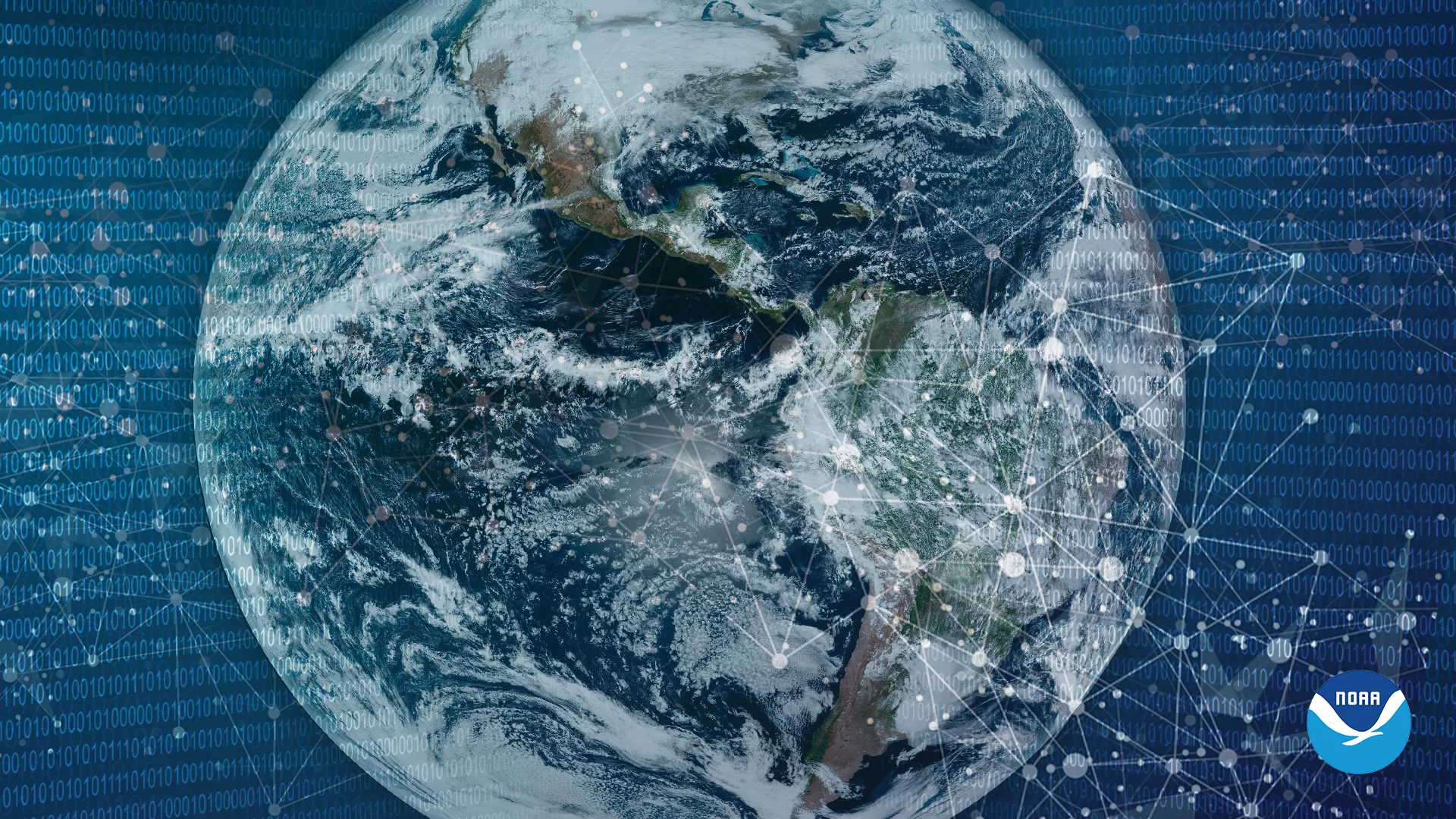 NOAA, its data users, and industry partners worked together to prioritize GeoXO's observations. To do this, they evaluated future environmental scenarios, studied GeoXO's potential capabilities, assessed the value and societal and economic benefits of various observations, and conducted interviews, surveys, and workshops.
New & Improved Observations 
New technology and scientific advancements will improve observations for weather forecasting and provide new ocean and atmospheric measurements. Data from GeoXO will contribute to weather forecast models and drive short-term weather forecasts and severe weather warnings. GeoXO will also detect and monitor environmental hazards like wildfires, smoke, dust, volcanic ash, drought, and flooding, and provide advanced warning to decision makers.
GeoXO's advanced capabilities will help address our changing planet and the evolving needs of NOAA's data users. NOAA plans for GeoXO to improve on GOES-R's visible/infrared imagery and lightning mapping capabilities. NOAA also plans for GeoXO to include hyperspectral sounding, atmospheric composition, and ocean color observations.
Earth as a System
Integrated GeoXO observations will allow scientists to better monitor environmental conditions and will complement observations from other satellites from NOAA, NASA, and our international partners. By better understanding the connection between weather, water, and climate, scientists will have a deeper understanding of Earth as a system. This will help them to address emerging environmental challenges, respond to the effects of Earth's changing climate, and improve forecasting and warning of severe weather and environmental hazards.  
Collaboration Delivers the Mission  
GeoXO is a collaborative mission between NOAA and NASA. NASA will manage the development of the satellites and launch them for NOAA, which will operate them and deliver data to users worldwide. NOAA and NASA will work with commercial partners to design and build the GeoXO spacecraft and instruments. 
NASA Selects Ball Aerospace to Develop NOAA's GeoXO Sounder Instrument

NASA Selects L3Harris to Develop NOAA GeoXO Imager

The Department of Commerce has formally approved NOAA's next-generation geostationary satellite…

NESDIS Announces First-of-its-Kind Enterprise Cloud Award

NASA Awards Contracts for NOAA GeoXO Spacecraft Phase A Study

NASA Awards Contracts for NOAA Ocean Color Instrument Phase A Study
The information on this page is subject to change as the GeoXO program develops.