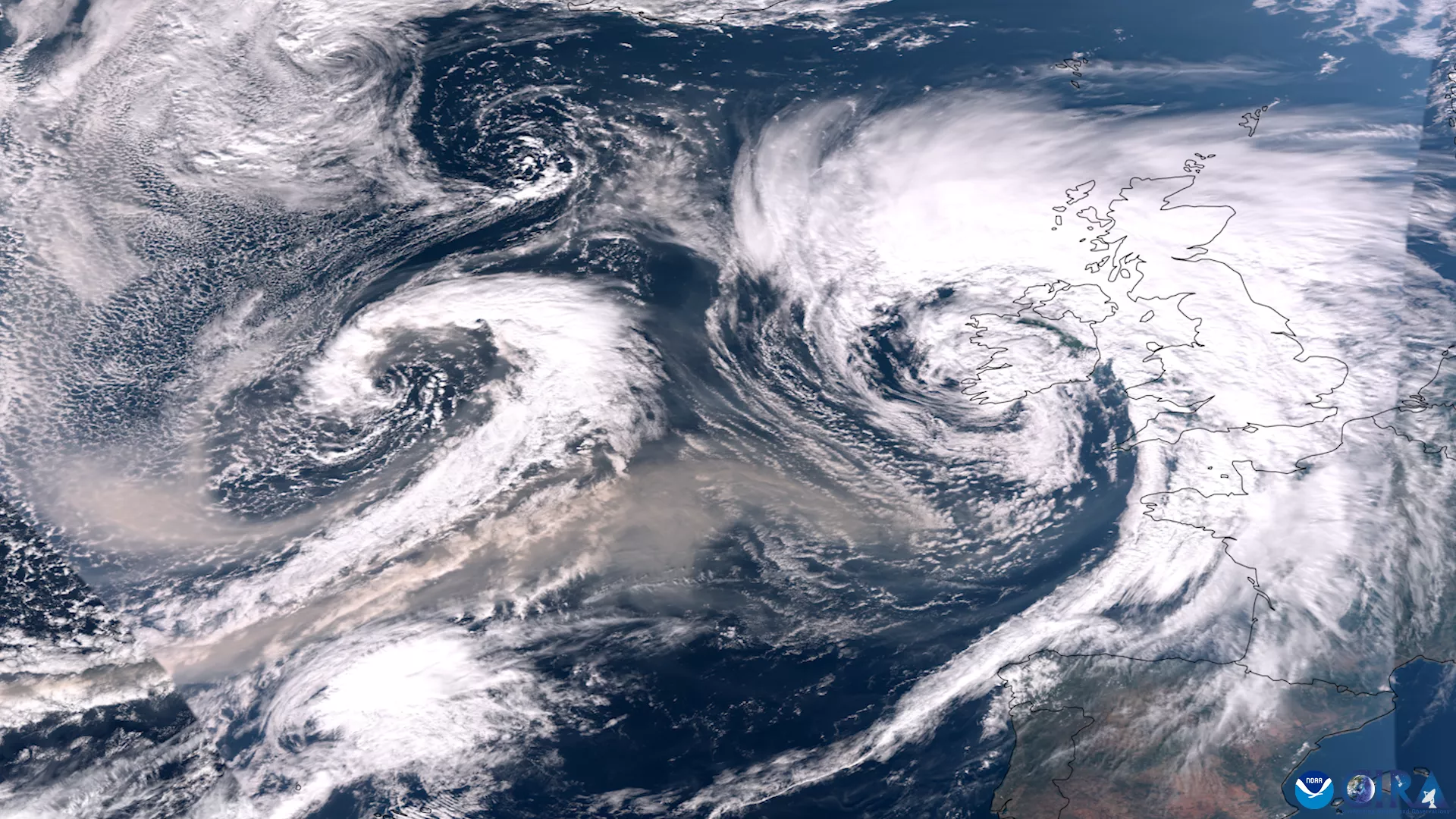 On September 27, 2023, the VIIRS instrument onboard NOAA's JPSS satellites captured this GeoColor imagery of Canadian wildfire smoke being pulled across the Atlantic Ocean by two areas of low pressure—one swirling system can be seen in the left of this image and the other, deemed Storm Agnes by the UK Met Office, is on the right near Ireland and the United Kingdom. GeoColor imagery provides a close approximation to what you would see with your naked eye from outer space.
It has been an unprecedented fire season in Canada, with about 44 million acres burned this year so far, with the season likely continuing  through much of October. Over recent days, large fires have burned hundreds of thousands of acres of land as a low pressure system offshore increased winds that fanned the flames across the very dry region.
Gusts of 70 mph were recorded as Agnes swept across the UK and Ireland, damaging buildings, causing travel delays and leaving homes without power. The UK Met Office issued severe weather warnings covering much of the UK, where strong winds and heavy rain were expected on Wednesday evening and into Thursday.
The NOAA-20, NOAA-21 (non-operational) and the NOAA/NASA Suomi-NPP satellites are part of NOAA's Joint Polar Satellite System (JPSS). JPSS is the Nation's advanced series of polar-orbiting environmental satellites. JPSS represents significant technological and scientific advancements in observations used for severe weather prediction and environmental monitoring. These data are critical to the timeliness and accuracy of forecasts three to seven days in advance of a severe weather event.