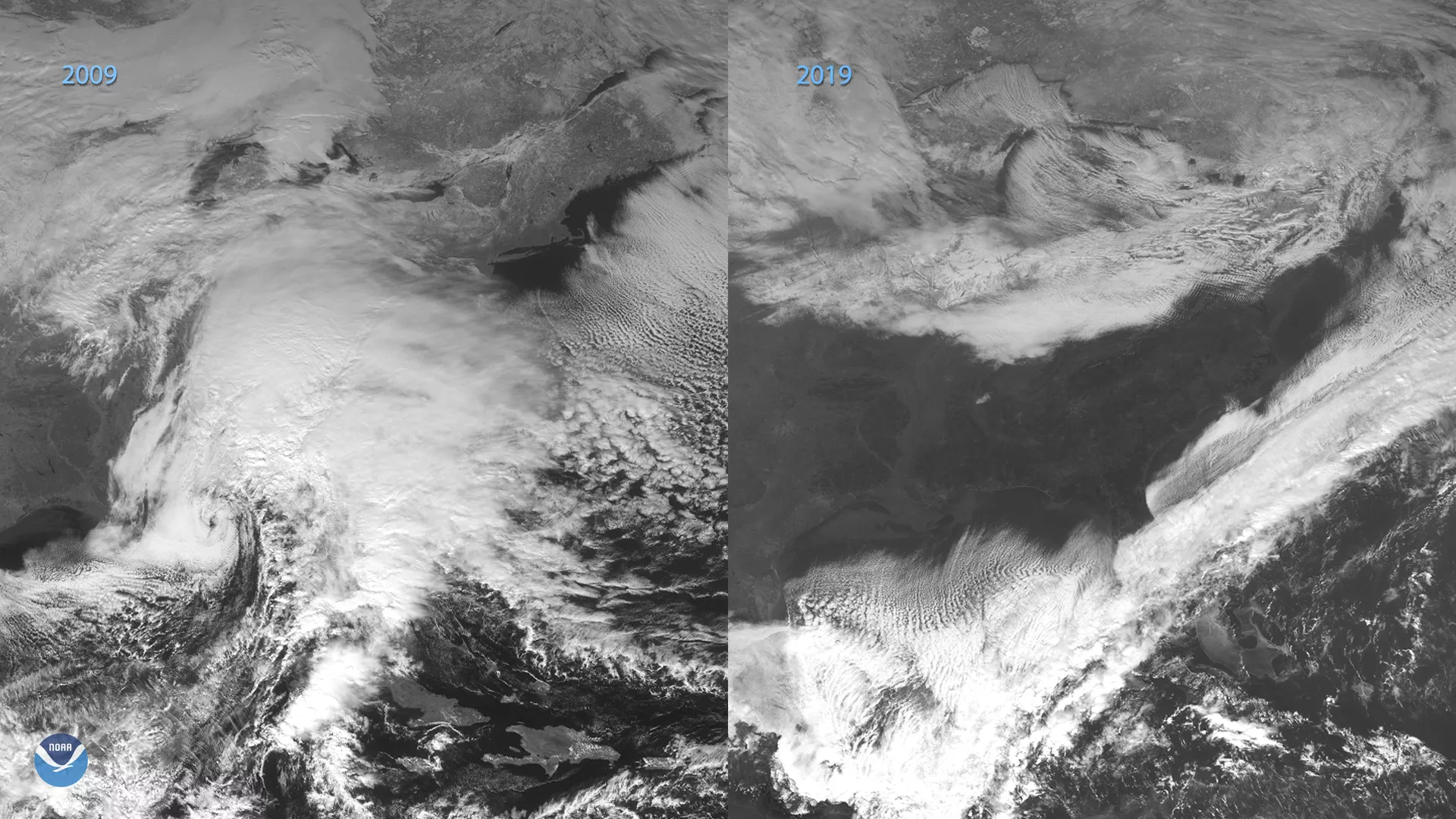 On the eastern coast of North America on Dec. 18, 2019, the GOES-16 satellite showed a long cold front that stretched from Newfoundland to the lower southeastern U.S. Within the U.S., the weather ranged from light snow and 12 degrees Fahrenheit in Eagle Lake, Maine to a chilly but clear 35 degrees Fahrenheit in Charlotte, N.C. It's a far cry from the weather that same region experienced a decade ago when GOES-12 captured the nor'easter that dropped up to 26 inches of snow in what is now known as The Blizzard of 2009.
The origins of that storm system on Dec. 18, 2009, when meteorologists observed an area of low pressure developing in the Gulf of Mexico, and tracked its progress to just east of the Carolina coast within the next few hours. Precipitation from the low pressure system interacted with cold air to produce snowfall that started on the following day. The NWS Office in Philadelphia elaborated: "As the low strengthened, heavier bands of snow developed and tracked through the Delmarva Peninsula and southern New Jersey. By late afternoon and evening, significant snow accumulations were occurring in these areas."
When snowfall finally concluded on Dec. 20, the Greenville-Spartanburg NWS office recorded over 24 inches of snowfall in areas from South Carolina to New England; the National Snow and Ice report for Dec. 2009 stated that "the snow cover for all of North America was also at its largest extent for any December at ...7.0 million square miles."
The GOES East geostationary satellite, also known as GOES-16, keeps watch over most of North America, including the continental United States and Mexico, as well as Central and South America, the Caribbean, and the Atlantic Ocean to the west coast of Africa. The satellite's high-resolution imagery provides optimal viewing of severe weather events, including thunderstorms, tropical storms, and hurricanes.