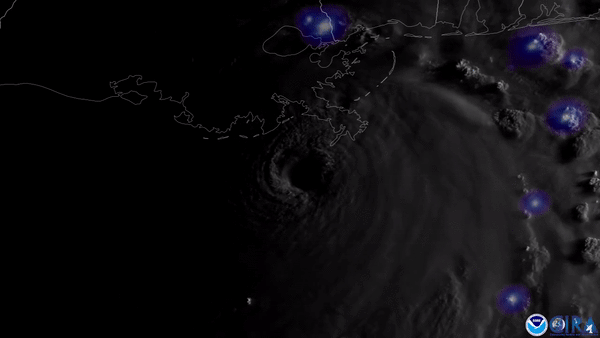 NOAA's GOES East satellite was closely watching the swirling clouds and flashing lightning associated with major Hurricane Ida on August 29, 2021.  As the storm was approaching the coast of Louisiana during the morning hours. GOES East was using its visible imagery and Geostationary Lightning Mapper to provide a more comprehensive view  of the hurricane.
Hurricane Ida made landfall near Port Fourchon, Louisiana around 11:55 am CDT on Sunday, August 29—the same day that Hurricane Katrina came crashing ashore in Louisiana 16 years ago. As Ida made landfall, maximum sustained winds were estimated to be 150 mph and reconnaissance aircraft estimated its minimum central pressure as 930 mb (27.46 in). Storm surge warnings at the time called for water levels to potentially reach 12-16 feet above ground level in locations and catastrophic wind damage was also expected near the core of Ida.
The GOES East geostationary satellite, also known as GOES-16, keeps watch over most of North America, including the continental United States and Mexico, as well as Central and South America, the Caribbean, and the Atlantic Ocean to the west coast of Africa. The satellite's high-resolution imagery provides optimal viewing of severe weather events, including thunderstorms, tropical storms, and hurricanes.