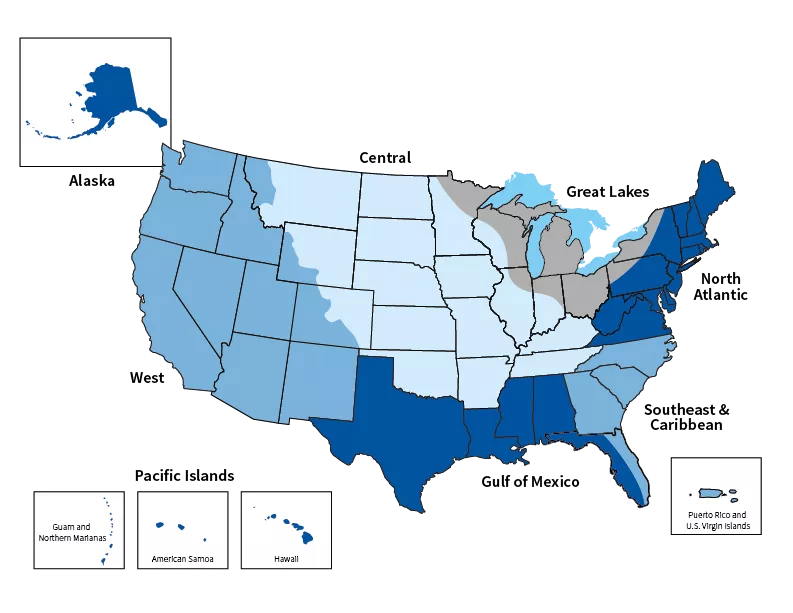 NOAA is pleased to announce the selection of Kehaupuaokalani "Pua" Kamaka as the new Regional Coordinator for the Pacific Islands. 
Pua was born and raised on the island of Oʻahu, in the ahupuaʻa of Kaʻalaea. She earned a Bachelor of Science degree in Marine Biology with a minor in environmental studies from Hawaiʻi Pacific University and a Master of Arts in Environmental Planning from the University of Hawaiʻi at Mānoa. Raised to appreciate her Hawaiian ancestry, Pua has molded her professional career to follow the Hawaiian values of Lōkahi (collaboration and cooperation), Mālama (stewardship, to care for), Kākou (communication, for "all of us"), Alakaʻi (lead with initiative, by a good example), and Kuleana (a personal sense of responsibility). 
Pua's cultural ties and love for the ocean motivated her to pursue a career in science to enable her stewardship of the environment and natural resources endemic to Hawaiʻi. She began her career with the National Marine Fisheries Service, Pacific Islands Regional Office (PIRO) in 2003 as a student intern and has been the PIRO records manager/FOIA coordinator for the past 13 years. She engages with the regional science center, fishery management council, general counsel, and other fisheries program offices. Pua has also been a member of the NOAA Fisheries HQ team tasked with implementing the Activity Plan Prioritization initiative and providing data analyses to leadership. 
To ensure that her two children experience growing up in a healthy marine environment as she did, her children are being taught that it is their kuleana to mālama the resources of Hawaiʻi so that future generations can share in the joy of living in Hawaiʻi. As indigenous people of these islands, it is important for Pua to perpetuate the knowledge, sense of place, and cultural identity that make Hawaiʻi a special place. In her spare time, Pua enjoys spending time at the beach with her husband, children, and dog.
Pua will start her new job on October 24, 2021. Please join me in welcoming her to the Regional Collaboration Team. We are excited to have her as part of our team. 
NESDIS sponsors the Pacific Islands NOAA Regional Coordinator position as part of its support to corporate NOAA Regional priorities and initiatives.