NOAA-20 CAPTURES DAY-NIGHT BAND IMAGES OF MOST RECENT POWER OUTAGE IN PUERTO RICO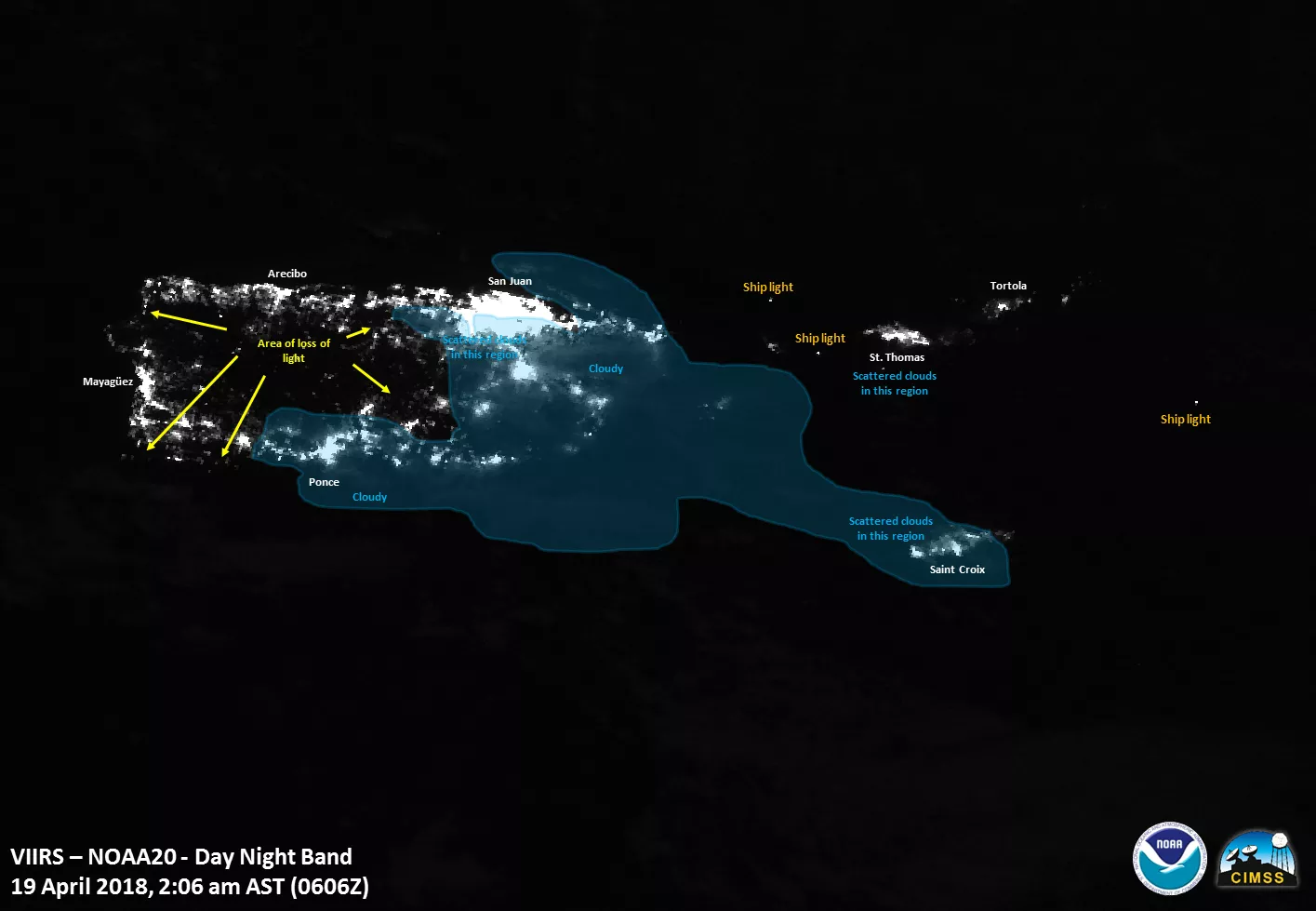 At approximately 11:04 am (EDT) on April 18, an excavator involved in an effort to remove a tower toppled by Hurricane Maria got too close to a power line and caused an electrical ground fault near Salinas, Puerto Rico. The incident resulted in an island-wide power outage. According to the Federal Emergency Management Agency (FEMA), the Puerto Rico Electric Power Authority (PREPA) said that, as of 2:00 am (EDT), approximately 43% of the island's customers had their commercial power restored.

About an hour before FEMA's report, NOAA-20, the newest NOAA polar-orbiting satellite, flew over the region with a near-nadir pass (i.e., almost directly overhead) and its Visible Infrared Imaging Radiometer Suite (VIIRS) instrument captured the following Day-Night Band image.

Although there were clouds on roughly the eastern third of the island preventing any rigorous analysis, the western roughly 2/3's of the island was relatively cloud free. As seen when comparing the Day-Night Band imagery from about a month ago (March 19, on roughly the 6 month anniversary of Maria hitting Puerto Rico), there was a noticeable loss of light, particularly in the rural areas. However, the larger cities (such as San Juan, Arecibo, Maunabo, Mayagüez, Naguabo and Toa Baja) appeared to have power. Although some lights can be seen in the rural areas, they are likely powered by generators, meaning most of these less populated areas are without power.