JPSS Satellites show intense convection, gravity waves as Florence moves west toward Carolinas
Satellite images of Hurricane Florence captured early Tuesday showed the storm developing a second, outer eyewall. By midday Tuesday, that outer eyewall had replaced the existing inner one, expanding the size of the storm as it approached the East Coast.

This event, known as an eyewall replacement cycle, is not uncommon for intense hurricanes over warm water with low upper-level wind shear, and will likely result in more powerful storm surges and wind hazards when the storm makes landfall, said Dr. Mark DeMaria, chief of the National Hurricane Center's technology and science branch.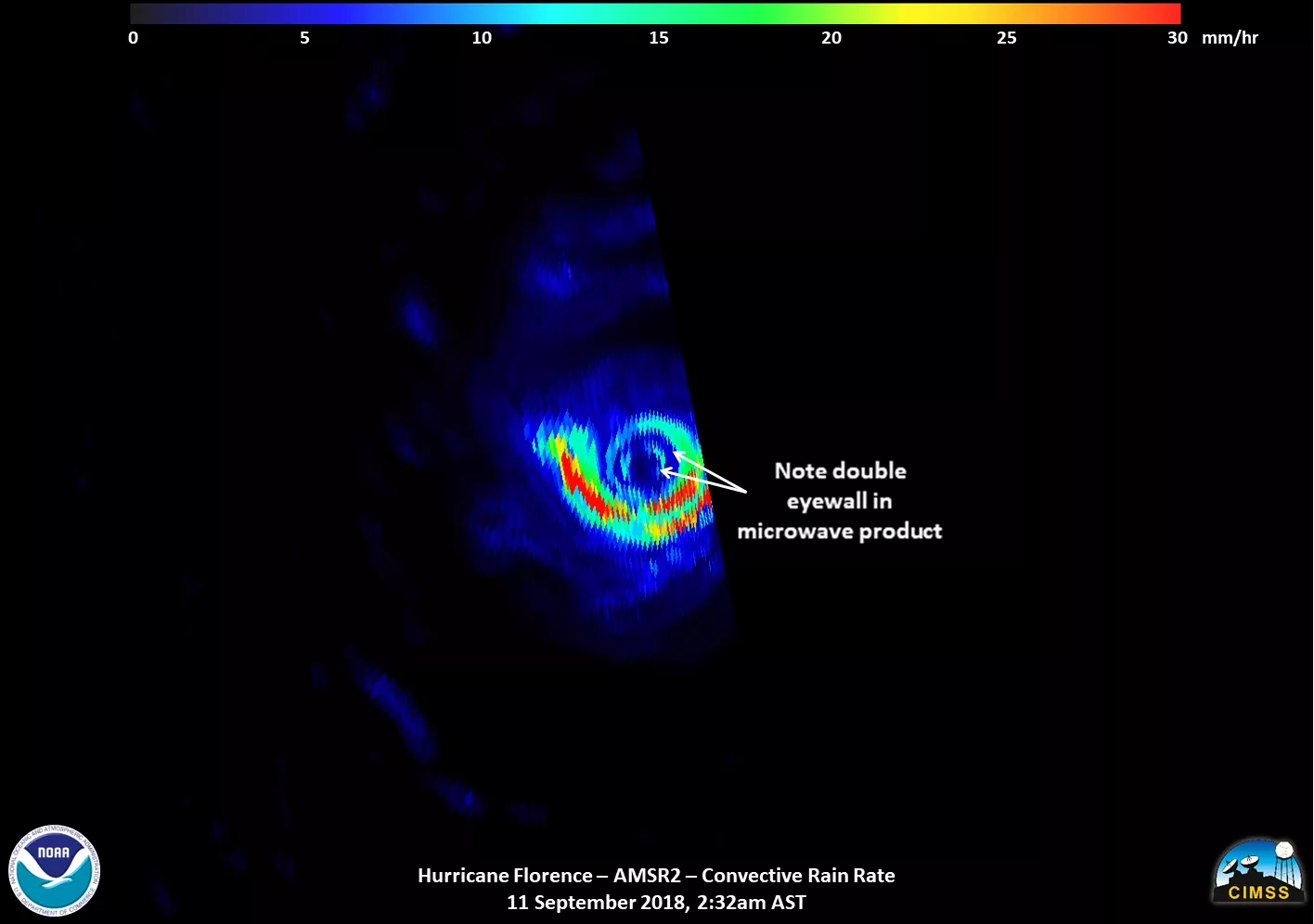 Data from the Suomi-NPP and NOAA-20 satellites also showed intense convection circling the eye of the storm and prominent gravity waves in the mesosphere, the layer of the upper atmosphere that extends 30 to 50 miles from the Earth's surface.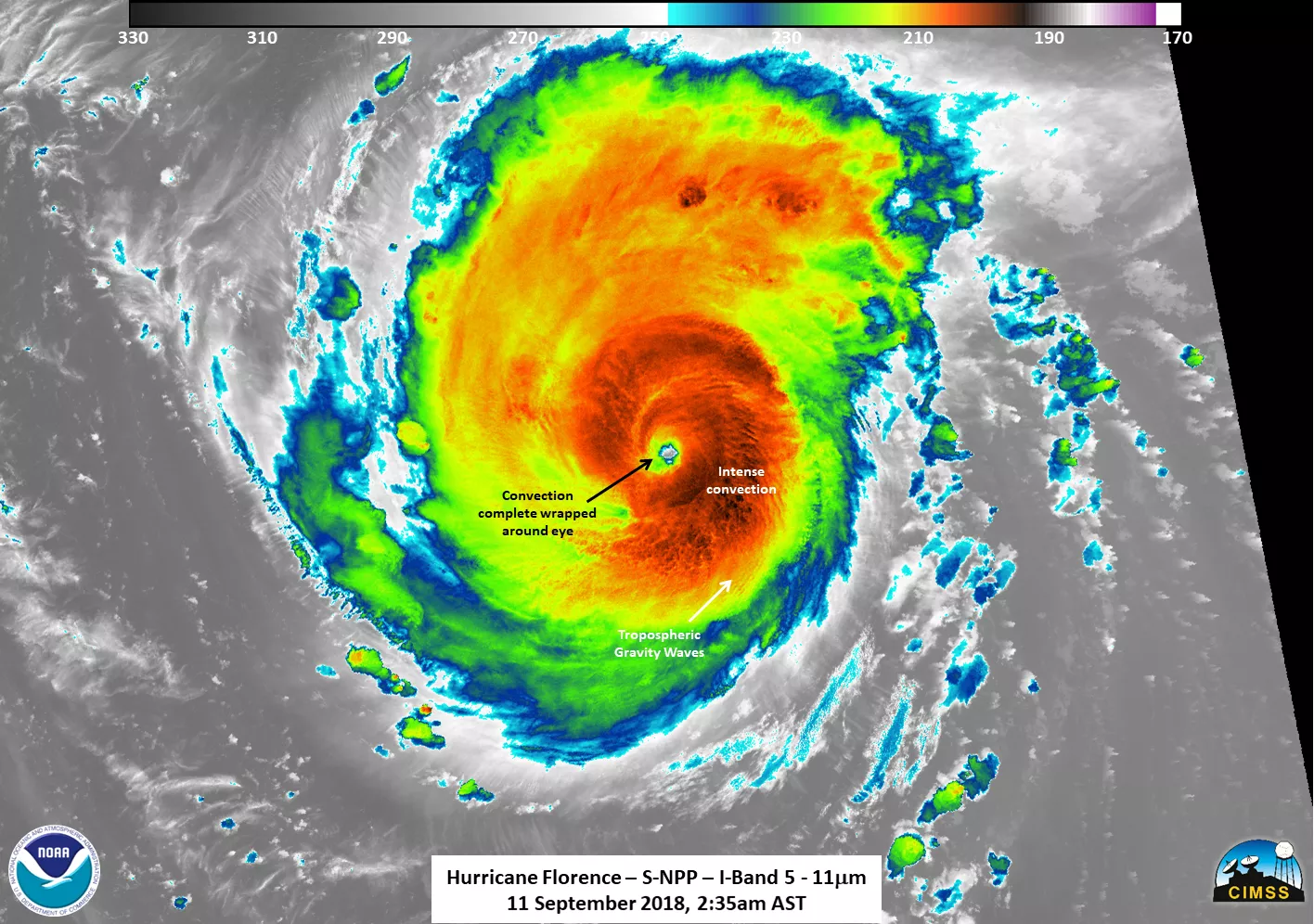 The NOAA-20 and Suomi-NPP satellites each are capturing images and data of Hurricane Florence twice a day. Instruments from these satellites, along with geostationary satellites like those in NOAA's GOES series, provide data on the structure of the storm as well as its intensity, along with amount of rainfall and atmospheric temperature. These data are fed into multiple hurricane models, which help forecast storms as they develop.

Both NOAA-20 and S-NPP can see from space a storm's convective gravity waves in the mesosphere. Gravity waves help distribute energy and momentum throughout the atmosphere. The more intense the storm, the greater the amount of energy that is transferred. Only the most intense storms (as well as violent volcanic eruptions) have enough force to generate gravity waves near the mesopause, said William Straka III, a researcher for the Cooperative Institute for Meteorological Satellite Studies at the University of Wisconsin-Madison. (The mesopause is the boundary between the mesosphere and the thermosphere, where Earth's atmosphere meets space.)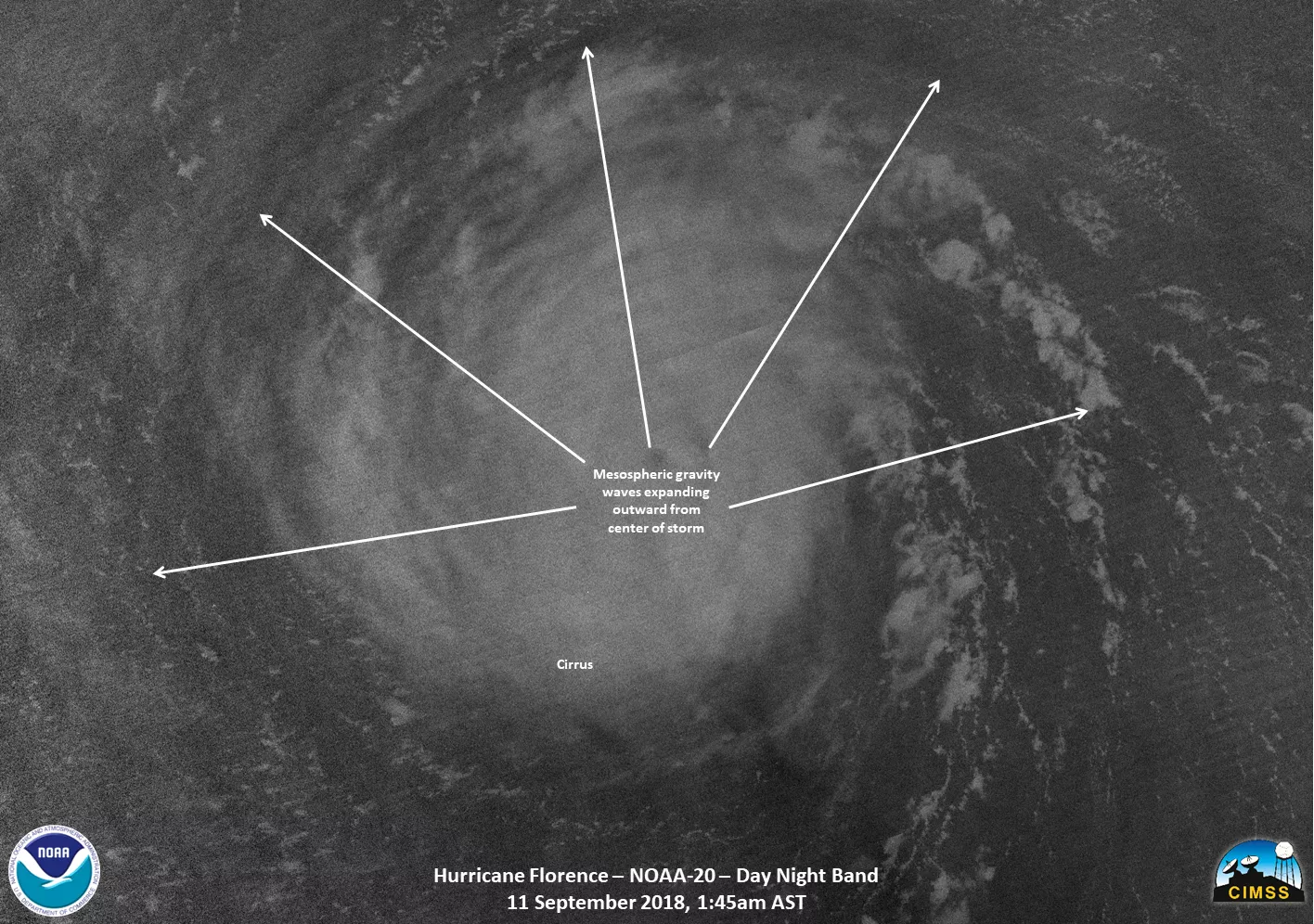 By Thursday at 8 a.m. EDT, Hurricane Florence was marching northwest at 12 mph as a "large hurricane" with 110-mph winds and higher gusts. The center of the hurricane is expected to approach the North or South Carolina coast late Thursday, and then move "near or over" the coast of southern North Carolina and eastern South Carolina Thursday night and Friday. The National Hurricane Center forecasts a "slow motion over eastern South Carolina" Friday night through Saturday night, according to its advisory released at 8 a.m. Thursday.

It's unusual for Category 4 hurricanes to maintain their intensity as they move north, DeMaria said. Category 4 and 5 storms are more common in areas with deep, warm water such as the Bahamas, the Caribbean, and the Gulf of Mexico, although they do occasionally occur further up the Atlantic coast along the Gulf Stream.

It is common, however, for storms to grow in size as they move north, which is the case for Florence. Although Florence has weakened to a Category-2 storm, the hurricane-force winds now extend 80 miles from the storm's center, up from 20 miles on Monday.

Ocean water temperatures along the coast of the Carolinas are about 2 degrees Celsius warmer than normal, DeMaria said. He believes the warmer temperatures were a factor both in Florence's size and the fact that it reached Category-4 status earlier this week.

The storm is trapped between two high-pressure systems pushing it opposite directions: one to the east, another to the west, he added. This scenario means it will likely slow down and stall as it makes landfall. On the ground, DeMaria said, this could translate to two straight days of heavy rain.

The National Hurricane Center on Thursday predicted 20 to 30 inches of rainfall in a region stretching from coastal North Carolina to far northeastern South Carolina with 40 inches in some areas, lasting from late this week into early next week. "This rainfall would produce catastrophic flash flooding and prolonged significant river flooding," according to the National Hurricane Center's 8 am advisory.

Bill Sjoberg, a senior systems engineer with NOAA and JPSS, has a simple experiment to help you understand hurricane rain. Take a five-gallon bucket, fill it up, and carry it around for an hour.

You'll notice something immediately: water is heavy. And this is key to the power of a storm like Florence. Now, Sjoberg said, "imagine taking millions of jugs of water and pushing it against your house or pushing it against the piers or pushing it against the sand."

The National Hurricane Center predicts "life-threatening storm surge and rainfall."

For storm information specific to your area, including possible inland watches and warnings, please monitor products issued by your local National Weather Service forecast office.