On the morning of August 30, 2023, at approximately 7:45 a.m. EDT, Hurricane Idalia made landfall near Keaton Beach, Florida. As a strong Category 3 storm on the Saffir-Simpson Wind Scale, Idalia had maximum sustained winds of 125 mph. By 11:00 a.m. local time, the center of the storm began crossing into southern Georgia. 
To its east, another storm—Hurricane Franklin—can be seen churning over the Atlantic near the island of Bermuda. According to hurricane specialist Philip Klotzbach, it is the first time since 1950, that the Atlantic has had two hurricanes with 110+ mph winds in August simultaneously. 
Franklin was the second named storm of the 2023 Atlantic hurricane season that became a hurricane and the first that became a major hurricane (category 3 or more). In the above imagery from 12:20 p.m. local time, August 30, we see both Hurricanes—Idalia over Georgia and Franklin, whose outer bands were passing near Bermuda with maximum sustained winds of 105 mph. 
The above GeoColor image was captured by the GOES East (GOES-16) satellite's Advanced Baseline Imager (ABI). ABI views the Earth with 16 different spectral channels (wavelengths), including two visible channels, four near-infrared channels, and ten infrared channels. GeoColor imagery provides a close approximation to what the human eye would see from space, allowing for intuitive interpretation of weather features. 
As Idalia approached landfall during the early morning hours of August 30, a nearly full moon illuminated its clouds and helped to increase the tides associated with the storm. In fact, the evening of August 30 features a rare blue supermoon—the closest full moon of 2023.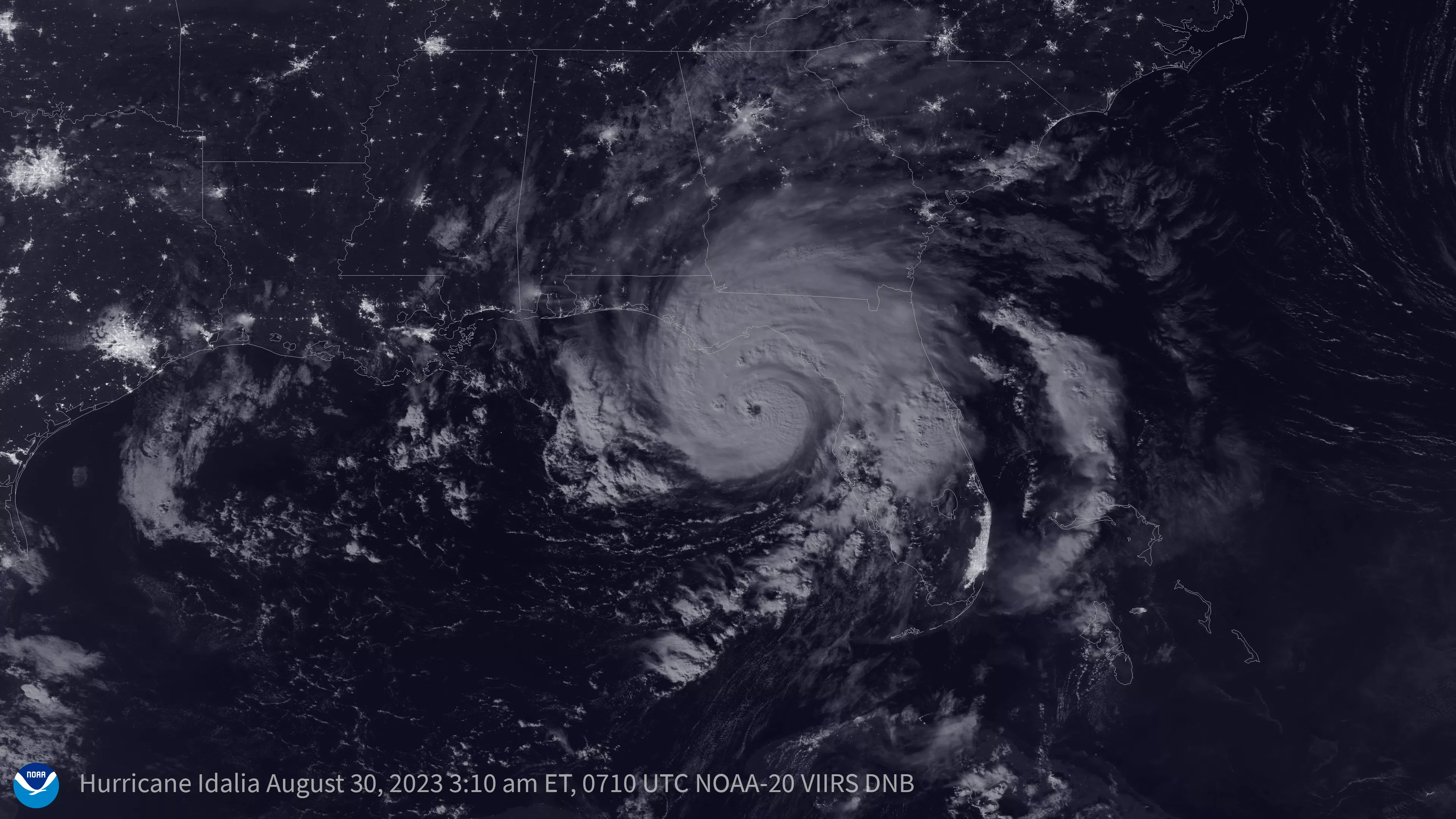 This True-Color image was captured by the NOAA-20 satellite's VIIRS instrument, which scans the entire globe twice daily at a 750-meter resolution. The VIIRS sensor provides high-resolution visible and infrared imagery of Earth's atmosphere, land, and oceans, and helps atmospheric scientists monitor severe weather events such as hurricanes and tropical storms.  
The NOAA-20 satellite and the NOAA/NASA Suomi-NPP satellite are part of NOAA's Joint Polar Satellite System (JPSS). JPSS is the Nation's advanced series of polar-orbiting environmental satellites. JPSS represents significant technological and scientific advancements in observations used for severe weather prediction and environmental monitoring. These data are critical to the timeliness and accuracy of forecasts three to seven days in advance of a severe weather event. JPSS is a collaborative effort between NOAA and NASA.
The GOES East geostationary satellite, also known as GOES-16, keeps watch over most of North America, including the continental United States and Mexico, as well as Central and South America, the Caribbean, and the Atlantic Ocean to the west coast of Africa. The satellite's high-resolution imagery provides optimal viewing of severe weather events, including thunderstorms, tropical storms, and hurricanes.