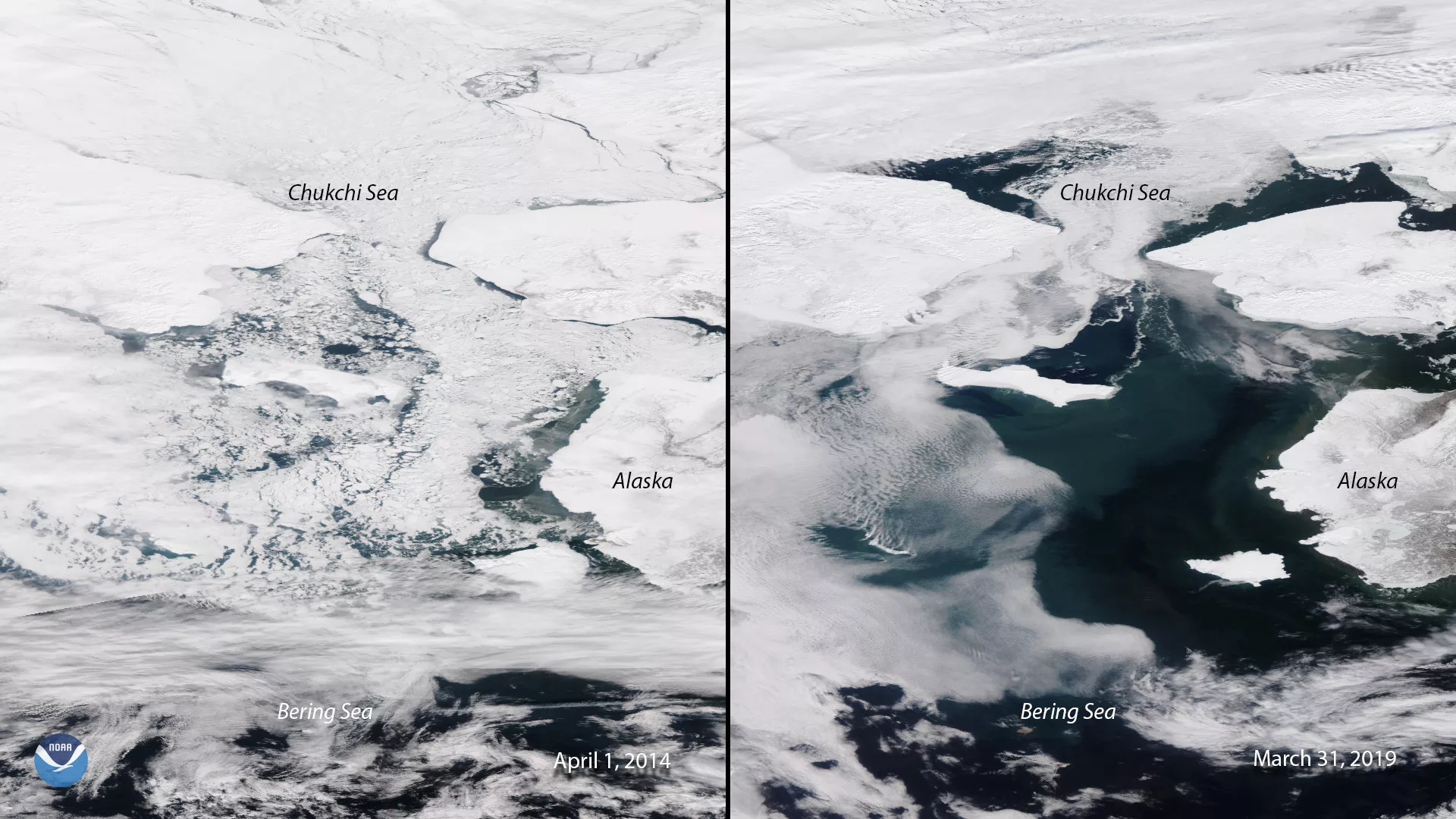 While late March to early April is historically when the Bering Sea reaches its maximum ice extent, these two images from NOAA's polar orbiting satellites show the stark contrast between what we've typically seen in the region versus what could soon be considered the new "normal."
On April 1, 2014, Suomi-NPP captured the image on the left, which shows much of the Bering and Chukchi seas covered in ice. The Arctic sea ice extent for 2014 was fairly typical, reaching its maximum on March 21, according to the National Snow and Ice Data Center. In contrast, the NOAA-20 image on the right shows a largely ice-free area from the coast of the Yukon Delta National Wildlife Refuge to the Bering Strait.
Rick Thoman, a climate specialist for the Alaska Center for Climate Assessment and Policy at the University of Alaska Fairbanks, explained that 2019 had the lowest ice extent on record, even surpassing 2018's "unprecedented low extent."
While scientists are still trying to determine the reason, Thoman said the Bering and southern Chukchi seas experienced "near or at record" warmth during summer and autumn months since 2014, which delays freeze-over when winter rolls around. Stormy weather from January to March also helped melt some of the thinner ice in the region.
Thoman said this low ice extent has had a substantial economic impact on the coastal communities that rely on the ice for crabbing, fishing and even walrus hunting.
Sea ice acts like a mirror and helps reflect sunlight and heat back into the atmosphere. This year's lack of ice means that there are two extra months for that solar energy to be absorbed by the open ocean.
"This virtually guarantees that sea surface temperatures will be warmer than normal this coming summer and autumn, and so it will impact the ecosystem, including commercial fisheries for months to come," Thoman added.