Tropical Storm Elsa Sets Records for 2021 Atlantic Hurricane Season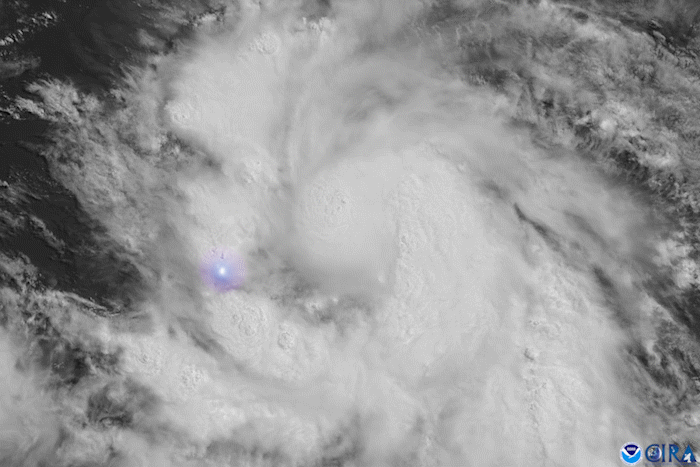 This Atlantic hurricane season is already setting records. Last week, Tropical Storm Elsa, which formed on July 1, became the earliest-forming fifth named storm on record over the Atlantic Ocean. On average, the fifth named storm of the season doesn't typically form until the end of August. The previous record was set last year when Tropical Storm Edouard formed on July 6, 2020. 
The visible imagery above from GOES East shows the storm shortly after it became a  hurricane on July 2, along with lightning detected by the satellite's Geostationary Lightning Mapper (GLM). As Elsa moved through the Caribbean, it became the first Atlantic storm of 2021 to strengthen into a Category-1 hurricane on the Saffir-Simpson Hurricane Wind Scale. Elsa was also the easternmost hurricane recorded in the Main Development Region (MDR). The MDR, which is a region south of 23.5°N, is an important boundary that is used in hurricane development metrics. There hasn't been a hurricane this early in the calendar year in that area since 1933's Trinidad hurricane. 
Additionally, as Elsa moved forward at a speed of 29 mph, it became the fastest-moving Atlantic tropical cyclone undergoing rapid intensification recorded in the MDR, Caribbean, or Gulf of Mexico as well as the first storm to undergo rapid intensification in that region this early in the calendar year since a previous storm in 1908. 
The GOES East geostationary satellite, also known as GOES-16, keeps watch over most of North America, including the continental United States and Mexico, as well as Central and South America, the Caribbean, and the Atlantic Ocean to the west coast of Africa. The satellite's high-resolution imagery provides optimal viewing of severe weather events, including thunderstorms, tropical storms, and hurricanes.