Tropical Storm Claudette Sweeps through the Southeast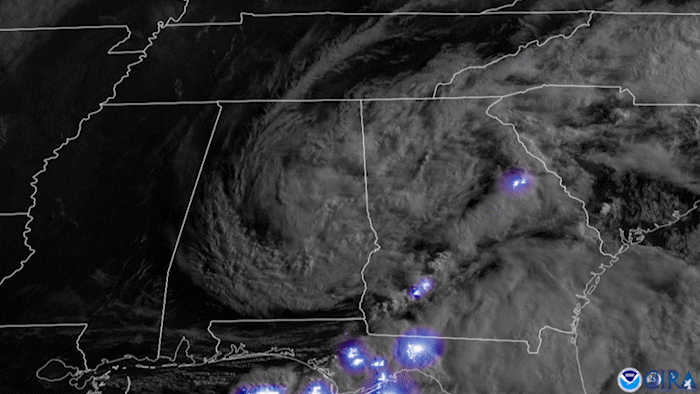 Last weekend, Tropical Storm Claudette made landfall along the northern Gulf Coast of the U.S., as seen in this 12-hour visible and lightning composite imagery from NOAA's GOES East satellite on Sunday, June 20. The storm was officially named on June 19, when it was coming ashore near Houma, Louisiana. As it moved inland, The Capital Weather Gang reported that "Claudette produced a storm surge of two to three feet above normally dry land from southeastern Louisiana to the Florida Panhandle," resulting in flooding and impassable areas. 
On Saturday, Claudette dropped heavy rain and produced sustained winds of 40 mph across the South, with gusts that caused a tree to fall over a mobile home, killing two.  The storm also produced an EF-2 tornado near Brewton, Alabama, that reportedly tracked for 22 miles and injured 20 people. Wet roads from Tropical Storm Claudette also reportedly led to a fatal car crash that killed 10 people in the state. 
The GOES East geostationary satellite, also known as GOES-16, keeps watch over most of North America, including the continental United States and Mexico, as well as Central and South America, the Caribbean, and the Atlantic Ocean to the west coast of Africa. The satellite's high-resolution imagery provides optimal viewing of severe weather events, including thunderstorms, tropical storms, and hurricanes.