A Picture of Dorian as Seen by GOES East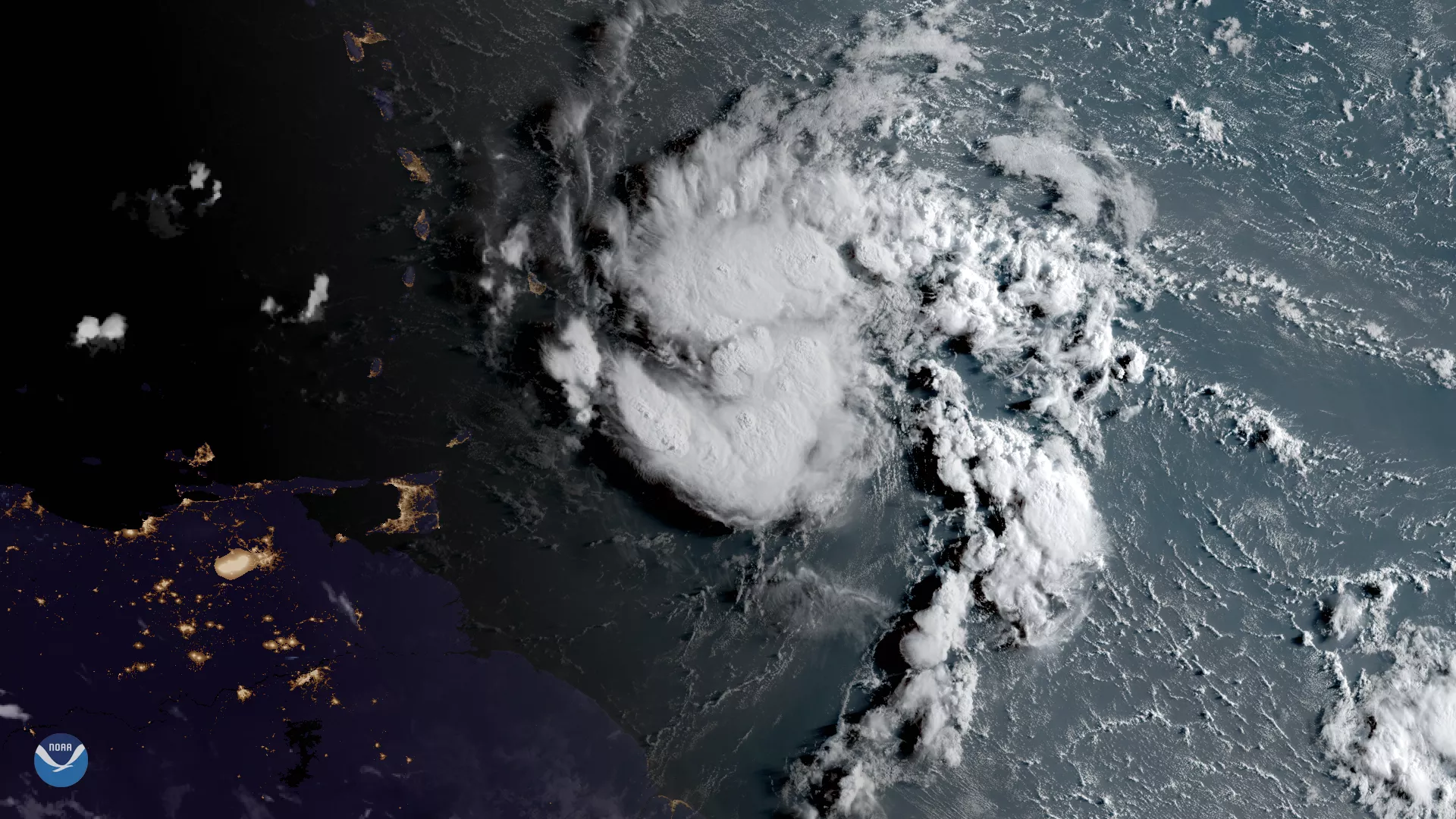 GOES East has been watching a tropical system just east of the Lesser Antilles, which became Tropical Storm Dorian on Saturday, Aug. 24, 2019. Overlaid onto this Geocolor image seen this morning, Aug. 26, 2019, are nightlights from the various islands.
Barbados, just visible through the clouds, along with the other Windward Islands of St. Lucia, and St. Vincent and the Grenadines were put under tropical storm warnings and are expected to see heavy rain, strong winds, rough surf, as well as localized flooding early this week. Tropical storm watches and warnings in some areas are in place for the surrounding islands of Dominica, Martinique, and Grenada, according to the National Hurricane Center.
This small storm system is currently moving westward with maximum sustained winds of 60 mph, and is expected to pass close to these islands by Monday night or early Tuesday morning before continuing toward the eastern Caribbean. By midweek, it is expected to head northwestward and reach Puerto Rico and Hispaniola by Thursday.
Tropical Storm Dorian is the fourth named tropical system of the 2019 Atlantic hurricane season. Although it is a relatively compact storm, it still has the potential to intensify even more and become a hurricane as it moves into the Caribbean.
The GOES East geostationary satellite, also known as GOES-16, keeps watch over most of North America, including the continental United States and Mexico, as well as Central and South America, the Caribbean, and the Atlantic Ocean to the west coast of Africa. The satellite's high-resolution imagery provides optimal viewing of severe weather events, including thunderstorms, tropical storms, and hurricanes.