NOAA Satellite GOES with the Floe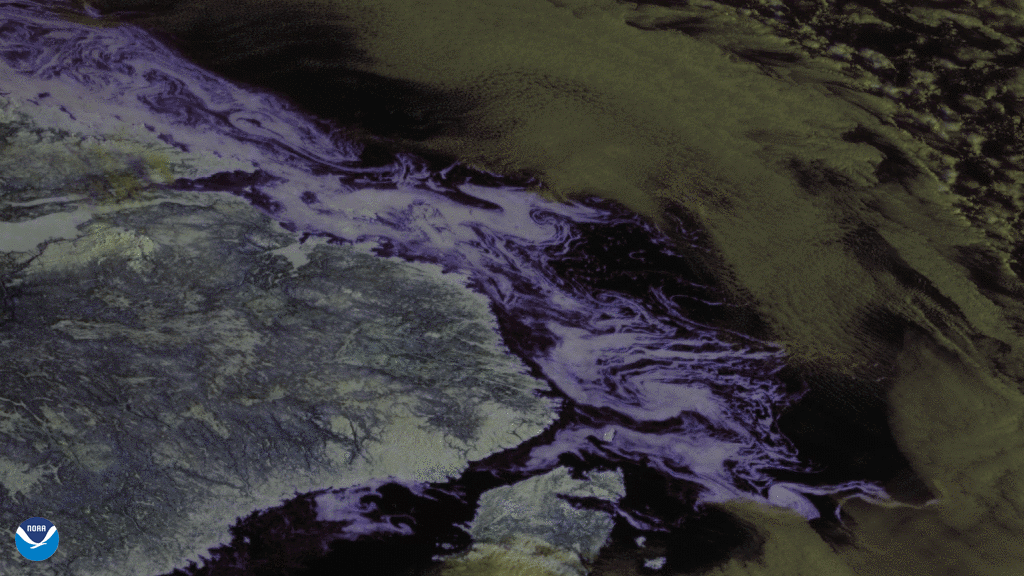 On March 9, 2021, GOES East used its Advanced Baseline Imager (ABI) to focus in on sea ice (bluish-white swirls) flowing in the Labrador Sea, off the coast of Newfoundland and Labrador, Canada.
This imagery combines the sensor's visible imagery with Day Snow/Cloud Layers imagery. This visible imagery has the finest spatial resolution of all ABI bands and is ideal to identify and examine small-scale features. The Day Snow/Cloud Layers imagery combines information from 6 different ABI bands to help differentiate snow, ice, and clouds. Doing this makes water appear black, snow and ice appear white or bluish-white, low moisture-rich clouds appear yellowish-green, and high ice clouds appear pink.
The Meteorological Service of Canada explained that the sea ice formed later than usual this year due to warmer temperatures in the region. Ice cover didn't start to really grow off the south coast of Labrador and the Gulf of St. Lawrence until about mid-February, when there was a cold snap.
The GOES East geostationary satellite, also known as GOES-16, keeps watch over most of North America, including the continental United States and Mexico, as well as Central and South America, the Caribbean, and the Atlantic Ocean to the west coast of Africa. The satellite's high-resolution imagery provides optimal viewing of severe weather events, including thunderstorms, tropical storms, and hurricanes.