When the second satellite in the Joint Polar Satellite System series launches to space in 2022, it will do so with a secondary NASA payload, an inflatable decelerator technology designed to one day land humans on Mars.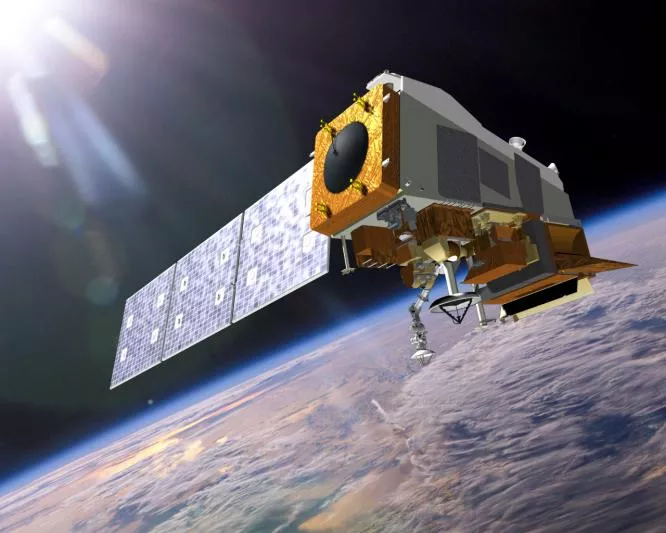 An artist's rendering of the JPSS-2 satellite
JPSS-2 is a continuation of the JPSS series of satellites. Working in tandem with NOAA-20, it will capture precise observations of the world's atmosphere, land and waters, and provide data that inform seven-day forecasts and extreme weather events.
Flying as a piggyback mission will be NASA's Low-Earth Orbit Flight Test of an Inflatable Decelerator, or LOFTID. The decelerator is built to one day carry heavy payloads through the thin atmosphere of Mars and to recover booster rockets after launch. But NASA must first test the technology's ability to survive the incredible heat and speeds of re-entry to Earth. LOFTID is funded by NASA's Space Technology Mission Directorate and managed by NASA's Langley Research Center in Hampton, Virginia.
Beyond LOFTID, NOAA will not pursue additional rideshare components with JPSS-2, due to the mission's complexity and cost, according to a top NOAA satellite official.
"Our team looked at the cost to the government of doing the additional rideshare, the readiness and timing of the payloads available from the private sector, our NASA partners, the growing potential of the private rideshare industry to fly these types of small satellite missions, and the overall mission complexity associated with adding additional secondary payloads," said Karen St. Germain, Deputy Assistant Administrator for Systems at NOAA's Satellite and Information Service. "Based on all of these factors, we decided that pursuing additional rideshare payloads was not a good fit for the JPSS-2 mission. We continue to learn from each of these rideshare studies."
JPSS-2 is scheduled to launch from Vandenberg Air Force Base, Calif. It will be renamed NOAA-21 when it reaches orbit.
St. Germain said NOAA will continue exploring ways to partner with the private sector, including providing access to space through the JPSS-3 launch, currently scheduled for the second quarter of fiscal year 2025.