Whether you call it the "1993 Superstorm," the "Blizzard of '93," or the "Storm of the Century," it was one of the largest and worst winter storms in U.S. history when it struck the eastern third of the nation 30 years ago.
Between March 12–14, 1993, millions of people living along the track of the storm saw record snowfall accumulations, record-low temperatures, record-low barometer readings, and winds exceeding 100 mph at times. Besides dumping more than four feet of snow in places, the storm also produced a destructive derecho–fast-moving bands of thunderstorms with destructive winds–that drove a deadly storm surge into parts of Florida's Gulf Coast and produced eleven tornadoes across the state. Aviation officials grounded a quarter of commercial flights for a two-day period. More than 250 people died and the nation incurred over $3 billion in damage.
Damage and deaths would have been significantly greater if not for newly developed forecast capabilities at NOAA's National Weather Service. This storm marked the first time all the components of the modernized NWS came together to usher in a new era where numerical weather prediction models would provide great advancements in weather forecasting.
From the perspective of NOAA satellites, the storm was massive—stretching from Canada to Central America at one point. Back in 1993, our latest generation of geostationary and polar-orbiting satellites was still years away. But the images and data NOAA satellites sent back to scientists and forecasters were nonetheless invaluable for tracking the storm from its explosive beginnings to its eventual demise. Below is a look at some of the images that NOAA satellites provided during that historical storm from three decades ago. All imagery is available for download and sharing with credit to NOAA.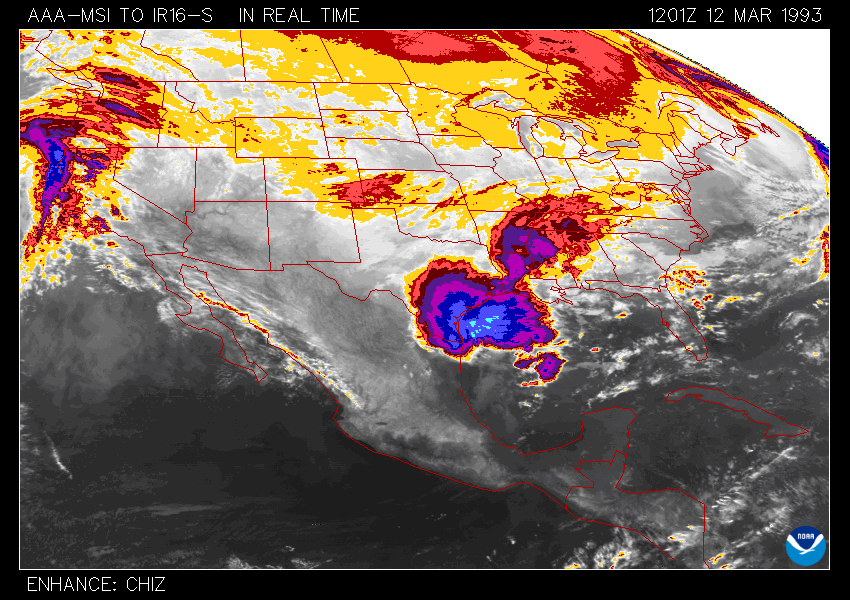 Lastly, below is a full GOES-7 infrared satellite animation video of the storm from start to finish (March 10–15, 1993). Notice the last few seconds of the video showing how the satellite saw the incredible coverage of snowfall from Alabama to Maine—there was even measurable snowfall in parts of the Florida Panhandle. The location with the highest snowfall total was Mount LeConte, Tennessee, with nearly five feet of snow.