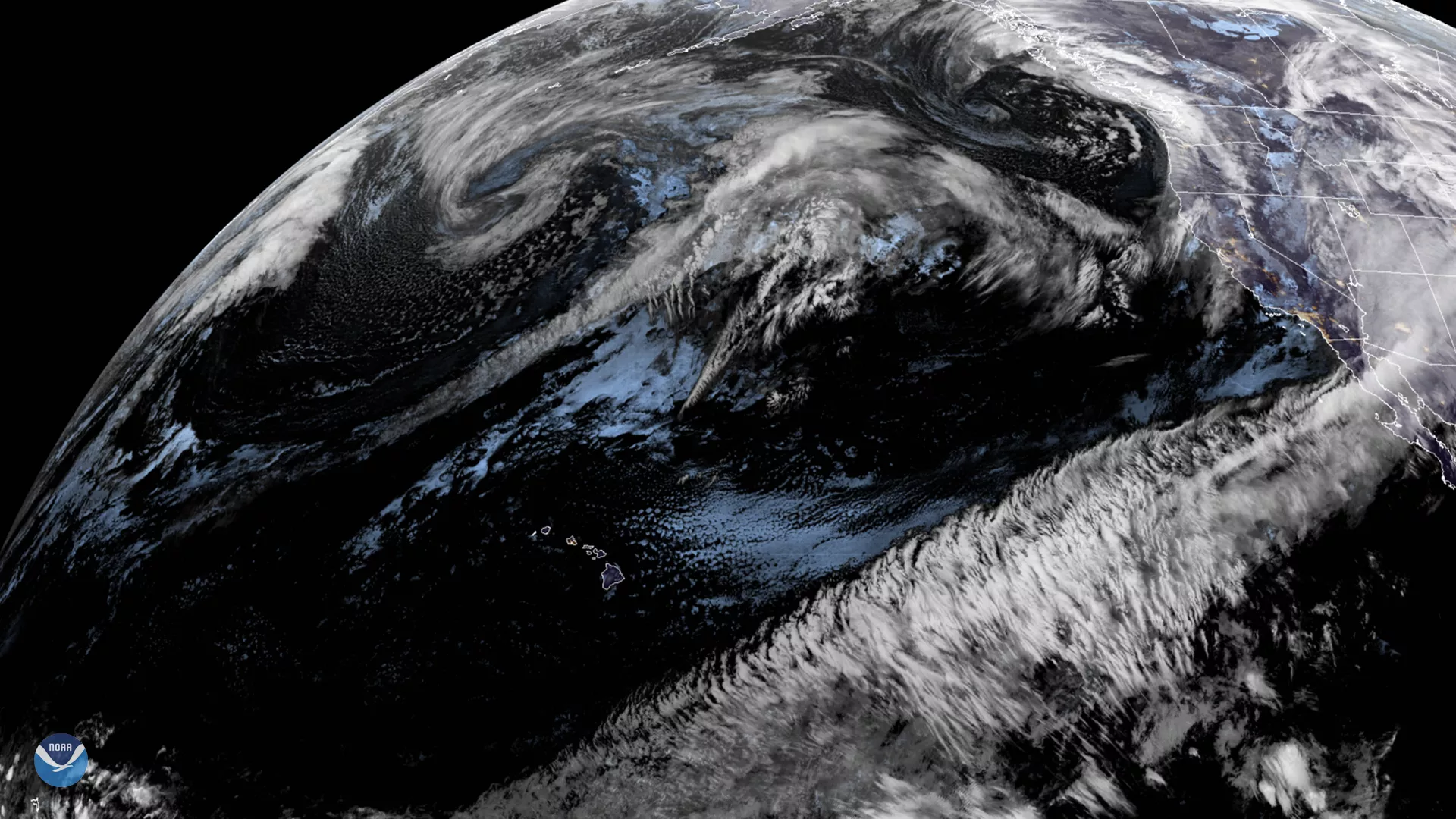 On Jan. 21, 2020, GOES West viewed a strong flow of moisture streaming across the Pacific toward the western coast of the U.S. This phenomenon, colloquially known as the "Pineapple Express", brings deep atmospheric moisture from around the Hawaiian Islands to the Pacific coastline. This, along with a former mid-latitude bomb cyclone dissipating off the coast of British Columbia, caused the National Weather Service (NWS) to determine that the West Coast will continue to experience "rain and higher elevation snow from the Pacific Northwest to the Rockies," with similar but weaker effect in the Southwest. In particular, higher elevations around Seattle are under a winter weather advisory , with "snow expected above 3000 ft, [and] total snow accumulations of six to eight inches."
The Pineapple Express is an atmospheric river created by a strong southern branch of the polar jet stream that carries moisture-rich waves of low pressure waves along with it. Each of these waves can bring widespread or heavy rainfall over western areas of North America. Associated with the Madden-Julian Oscillation (MJO) , the Pineapple Express flows over the Pacific Ocean and travels eastward to North America, creating a pattern with higher-than-normal rainfall in West Coast locations over the course of one or two months. When the jet stream carrying the Pineapple Express moisture splits in two , it carries moisture and rainfall as far north as British Columbia and as far south as the Southwestern U.S.
According to NOAA's National Ocean Service (NOS), "[the] Pineapple Express can dump as much as five inches of rain on California in one day… and affect the entire West Coast of North America," causing a great deal of damage to property and travel disruptions. Despite the heavy precipitation that comes with the weather cycle, the Pacific Northwest is still under threat for drought conditions : one of the cycle's drawbacks is uneven and hard-to-predict rainfall that could otherwise replenish local water reserves.
This GeoColor enhanced imagery was created by NOAA's partners at the Cooperative Institute for Research in the Atmosphere. The GOES West satellite, also known as GOES-17, provides geostationary satellite coverage of the Western Hemisphere, including the United States, the Pacific Ocean, Alaska and Hawaii. First launched in March 2018, the satellite became fully operational in February 2019.