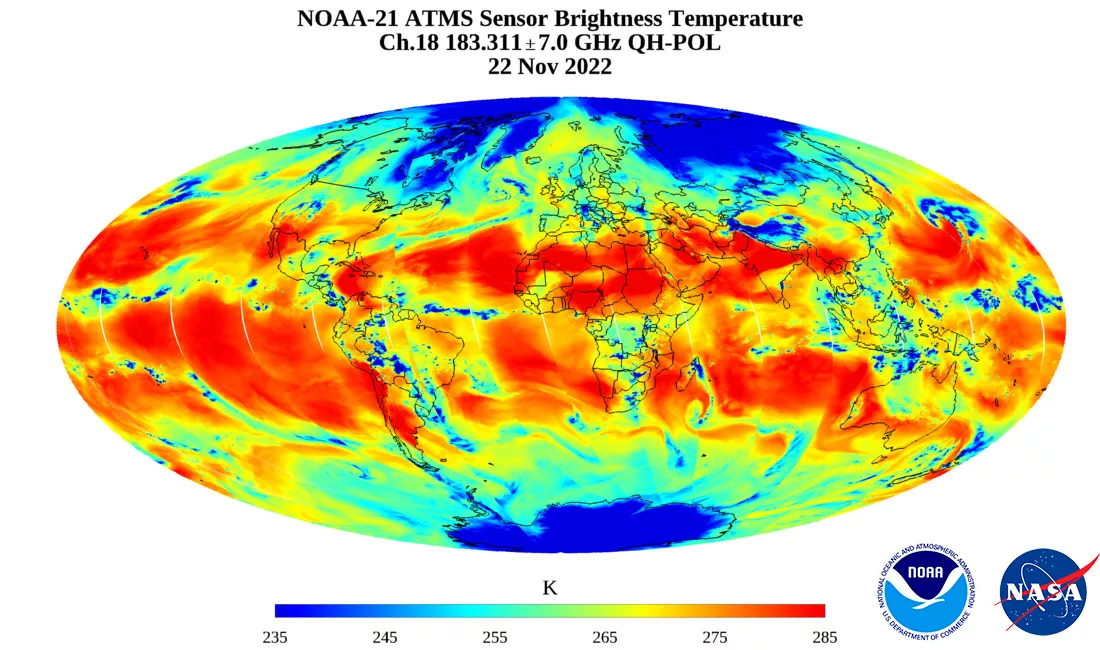 The Advanced Technology Microwave Sounder (ATMS) instrument onboard the NOAA-21 satellite captured its first global image on Tuesday, November 22, 2022, 12 days after successfully launching from the Vandenberg Space Force Base, California. Originally known as JPSS-2, the satellite was officially renamed NOAA-21 earlier this week, following NOAA's naming conventions for polar orbiting satellites.
This marks the first in a series of first-light images from NOAA-21's four instruments that will be released by NOAA before the satellite goes into full operational mode. ATMS is a key sensor used for numerical weather prediction models.  
The ATMS instrument gives weather forecasters a global 3D picture of our atmosphere's temperature and moisture—the most fundamental information needed by weather models that forecast daily weather and warn us of hurricanes, floods, droughts, heat waves, snowstorms, and other weather events. Because ATMS observes Earth in the microwave portion of the electromagnetic spectrum, it sees through clouds like an X-ray, allowing us to view the structure of the atmosphere underneath those clouds, and see inside of storms. 
ATMS works closely with the satellite's Cross-track Infrared Sounder (CrIS) instrument to take detailed measurements of the atmospheric conditions, such as temperature and water vapor soundings, needed to generate extreme weather forecasts days in advance. Data from ATMS also contribute to a global record of atmospheric measurements that dates back 40 years. These data are used in climate models to help us understand how our atmosphere has been changing over time. 
"This information is used to determine initial conditions for numerical weather prediction models to provide accurate forecasts for the future," said Joint Polar Satellite System Program Scientist Satya Kalluri.  "ATMS data are also used for measuring precipitation, hurricane intensity and surface temperature."  
The image above from November 22 uses NOAA-21 data to show the state of atmospheric water vapor. Red indicates little water vapor. Light blue shows more abundant water vapor, while dark blue in the polar region indicates surface snow and ice.  
Together, NOAA and NASA oversee the development, launch, testing, and operation of all the satellites in the Joint Polar Satellite System program. NOAA funds and manages the program, operations, and data products. On behalf of NOAA, NASA develops and builds the instruments, spacecraft, and ground system, and launches the satellites, which NOAA operates.