On April 29, 2022, the GOES East satellite captured this dynamic imagery of massive grayish-white smoke plumes emanating from the Cerro Pelado, Cooks Peak, and the combined Calf Canyon and Hermits Peak fires in New Mexico, while a brownish dust storm raced southward from the Colorado Plains. 
According to the National Weather Service, wind gusts in Colorado reached up to 60 mph due to a boundary diving southward, and the dust carried caused visibility to drop to near zero in what was called "brown-out" conditions. 
As of May 2, 2022, the fires in this imagery had consumed roughly 181,000 acres (283 square miles) combined, an area about the size of Lexington, Kentucky. The infrared imagery below shows another view of the Calf Canyon and Hermits Peak fires near Las Vegas, New Mexico, where the satellite is detecting the intense heat of the fire from space (red and yellow are the hottest areas).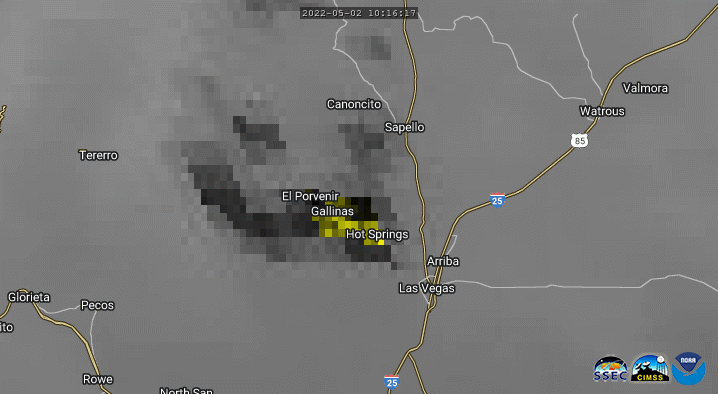 The GOES East geostationary satellite, also known as GOES-16, keeps watch over most of North America, including the continental United States and Mexico, as well as Central and South America, the Caribbean, and the Atlantic Ocean to the west coast of Africa. The satellite's high-resolution imagery provides optimal viewing of severe weather events, including thunderstorms, tropical storms, and hurricanes.