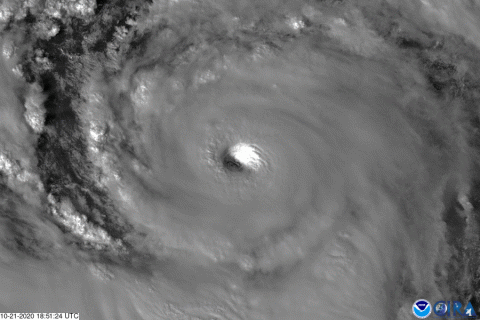 On Wednesday, Oct 21, 2020, The GOES-East satellite watched Hurricane Epsilon quickly intensify from a Category-1 storm to a major Category-3 storm in just a few hours, making it the fourth major hurricane of the 2020 Atlantic hurricane season. The band 2 visible imagery above shows the eye of the storm with mesovortices swirling within it.
Additionally, images released by the "hurricane hunter" aircraft show the " stadium effect," where the wall of clouds around the eye looks like a sports stadium due to rapidly-rising air moving outward, causing the eye's diameter to widen the farther up you go.
Overall, Epsilon's wind speeds increased by 50 mph in 24 hours, which officially qualified it as a rapidly intensifying storm. Philip Klotzbach, a meteorologist at Colorado State University, said that there have only been five other years since 1950 in which two major Atlantic hurricanes formed in October: 1950, 1961, 1964, 1995, and 2005. He also added that since records began in 1851, there have been no instances when more than two major hurricanes in the Atlantic have formed this month.
The GOES-East geostationary satellite, also known as GOES-16, keeps watch over most of North America, including the continental United States and Mexico, as well as Central and South America, the Caribbean, and the Atlantic Ocean to the west coast of Africa. The satellite's high-resolution imagery provides optimal viewing of severe weather events, including thunderstorms, tropical storms, and hurricanes.