Ajay Mehta
Director of the Office of Satellite Ground Services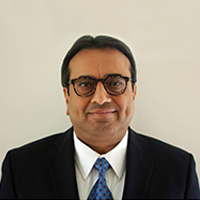 Ajay Mehta is the Director of the Office of Satellite Ground Services (OSGS) within NESDIS. In this role, he is responsible for leading ground sustainment efforts for operational satellite systems in low-Earth, geostationary, and deep-space orbits. He is also responsible for leading the transformation and transition of the organization's data ingest, processing, dissemination, and archive capabilities to the cloud. 
His previous responsibilities included serving in the role of the Deputy Assistant Administrator for Systems, where he was responsible for providing oversight of NOAA's satellite acquisition programs by evaluating cost, schedule, and performance of its $1.3 billion/year Earth and space weather satellite portfolio.
He has represented NESDIS on a number of national and internal groups, including joint NOAA and NASA governance boards. He has also served as the Deputy Director for the Joint Polar Satellite System, an $18.9 billion program providing essential observations for the Nation's weather forecasting enterprise, and as the Deputy Director of the Office of Satellite and Product Operations where he was responsible for managing five Divisions comprising more than 300 civil servants and 250 contractors.
His responsibilities have included overseeing the command and control of more than 17 civil and defense weather satellites; development and dissemination of more than 300 weather and environmental products and services to national and international users; and management of the NOAA Satellite Operations Facility, Suitland, Maryland; as well as two Command and Data Acquisition Stations (Wallops Island, Virginia, and Fairbanks Alaska); serve as the U.S. Representative to the Cospas-Sarsat Council – an international program for satellite-aided search and rescue, data collection systems, and the National Ice Center.